Nobody Wants To See a Bird that Cannot Sing
by Patrick Collier

About the author:

Patrick Collier is a visual artist and arts writer residing in Corvallis, Oregon. His approach to artmaking is multidisciplinary, including sculpture, painting, drawing, photography, video and poetry, periodically utilizing all of or some of the above disciplines in the same artwork or installation.

Content:
Collection of photographs, poems, and sculpure by Corvallis, Oregon based artist and arts-writer Patrick Collier.
photographs/sculpture
58 pages
8 x 10.5"
-
poetry inlay

5.5 x 6.25"
20 pages
-
staple bound
︎ $30 USD
︎︎︎
add to cart
Issue 3

Counterbound vol.1
essays, poems, and images from Rogue Valley, Oregon
Visual art: constructing water by Leah Wilson
Featured: dispatches from the Non-Profit industrial complex. Organizing
LGBTQIA+ space in a conservative Catholic school. Portland's federal occupation and the US Mexico borderlands.
essay, poetry, photography
5x7"
staple bound
Issue 2

Counterbound vol.1
Visual art: sculpture and painting by Andries Fourie
Featured: houselessness in the Rogue Valley, land-based reparation, solidarity, and more.
essay, poetry, photography
5x7"
staple bound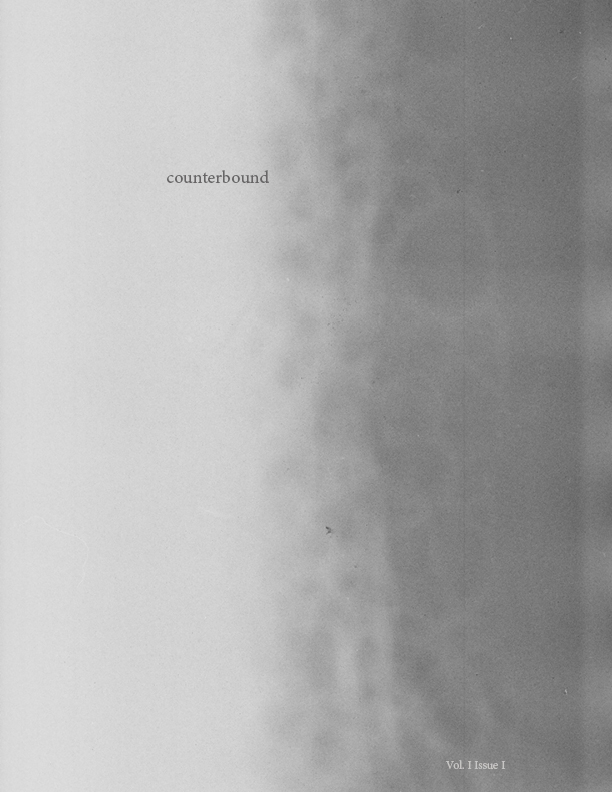 Vol. 1 Issue 1
($7)
Our first issue includes five works of non-fiction, two poems, and a collection of visual art.
Works featured:
Transcending a Return to Normal
, on the economic future of Ashland.
Home, Now What?
on returning home amidst crisis.
A Complex Truth
, on whiteness and oppression.
Climate Messages from Covid-19
, on what is to be learned from the twin crisis of the pandemic and climate change.
The Table Rock Peace Pipe
, on local history and challenging settler narratives.
Letter from the editors.